Carers Week: I have found Melo to be of great help to give me ways to centre myself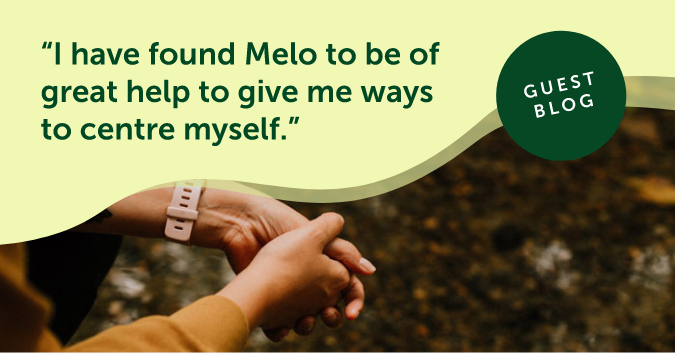 My name is Vicky, and I'm a Carer. This has always seemed weird for me to say, and it's still strange to write it, as I have previously felt I am not 'entitled' or feel 'worthy' of being called a Carer. My partner who I care for has mental health issues and is therefore able to walk around and do things for himself. I have always thought of a Carers role to be someone who does shopping for someone because they can't walk, or giving them bed baths because they are bed bound. This isn't the case at all.
I was referred to Hafal, a Welsh mental health charity supporting those affected by serious mental illness, by my GP about 18 months ago for myself and the family. With the support of organisations and conversations it has made me realise that I am a Carer.
I registered as a Carer through my GP and have also had support from The Carers Trust and Hafal through telephone conversations, information through the post, grants, and website links. Information and help is out there but it's just knowing which direction to find it. Melo has also been a great support for my own mental health, signposting me to local activities or using the tools on their site to help me if I am having a bad day.
Along with all the amazing support I have had, there have been difficulties. The 'paperwork' side of things have been challenging for me. I am not entitled to Carers Allowance because of certain boxes I do not tick. This means I can't claim some of the financial grants available for unpaid carers. And that's tough. Does this mean I am not caring for my partner the same as someone else?
One of the many challenges I have faced is my own communication on behalf of my partner. He has spoken to his GP many times as well as a serious mental health clinic. I have never been able to speak to anyone about his mental health or what he needs. I know him the best and see his day-to-day living and how is mental health is never the same from one day to the next. Unfortunately, he hasn't received the direction he should have been given because he would put on a brave face when talking to a health care professional, instead of saying how his days truly are. If I was able to have that conversation alongside him, as a group, then things would be very different. This has been one of the most frustrating challenges.
How Melo has helped my wellbeing
Alongside my partner's mental health struggles and being a Carer for him, I also suffer with my own mental health. I have anxiety & PTSD, and am making my own way to get help, such as seeking counselling. Although I have good days, I still also have days I am overwhelmed. I have found Melo to be of great help to give me ways to centre myself. I have also over time found ways to help improve and maintain my own mental wellbeing. I love to read history books and feel the book in my hands and allow my mind to wander into a different world. I have also enjoyed creating a mini allotment in my garden, and really feel at peace when outside in the fresh air and seeing plants grow (although not so happy with the slugs!). I have also started to introduce some mindfulness into my week if I can, from 5 minutes of breathing techniques, to writing all of my thoughts and feelings onto paper or a journal. I don't pressure myself to do these things but feel when I need some time and I am able to do them then I will.
I have learnt so much on my short journey of being a carer and hope I can help make changes to the less-fair side of certain systems. The most important thing is my partner is happy, we can see a way forwards with the guidance of amazing services and, no matter what, there is an amazing Carers community out there who are all doing the same thing (be that paid or not!) …Caring.
Follow us on social media for mental wellbeing tips, resources and courses.