'No Strangers' – Men's Den Blaenau Gwent
There are
no strangers here,
only friends you have not met.
What is
Men's Den Blaenau Gwent
?
'No Strangers' is the slogan for Men's Den (Blaenau Gwent), a group that aims to provide a space for men to get together to support each other, in the spirit of fellowship and friendship, so everyone feels welcome.  
The group was established by Communities First to tackle growing concerns of social isolation among the local male population. When Communities First ended, a few members decided to constitute the group and keep it going with a few committed volunteers.  
"The challenge of Covid has been rather a severe test to the group' said group secretary, Rafi Abbas, 'Before Covid 19 we used to meet weekly in Bournville Community Hall. We used to organize out-door activities for all our members, which many thoroughly enjoyed. During the lock-down we decided to meet digitally to try to keep members feeling positive." 
Digital adapting to Coronavirus with help from Age Cymru
Age Cymru have provided free computer training to the members which has given them the confidence to join the digital sessions. Just recently some members have started to meet in person, while some of the other members still meet digitally.  
"In these challenging times we all are going through," Rafi said,"a place where local people can meet, socialize and play games is very important. It is a step in the right direction, helping to address loneliness and isolation, and contribute in a positive way to the urgent need for community building." 
What their members have to say
One of the members is Jim Morgan from Ebbw Vale: 
"The last year, with the challenge of Covid19, has not been easy for me. But with the support of family members, health staff, some neighbours, and friends from Men's Den (Blaenau Gwent), I have managed to keep going. My pet budgie, Bobby, has been a great companion, and has been with me for many years now.   

I try to stay active and positive in my daily routine; me and the boys have a regular quiz on-line, one round in general knowledge and then we take it in turns to choose a specialist subject. I still play music. Sometimes I can spend hours on the guitar and at other times, I'm not in the mood. I miss playing in the band and the singing in the Festival Park in Ebbw Vale. 

Whenever I am well, I attend Men's Den (Blaenau Gwent) digital weekly gathering, and I find it to be good. I chat to my friends and make new friends."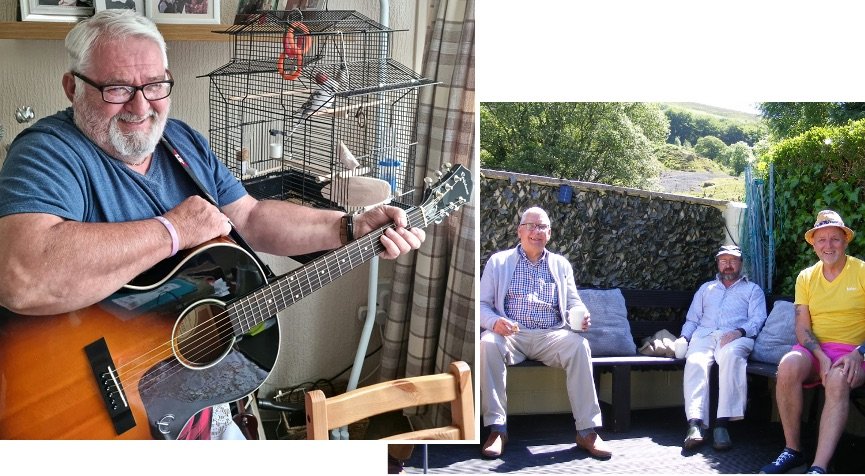 Join the Blaenau Gwent Men's Den
Men's Den Blaenau Gwent, weekly gathering (in person and digitally) takes place on Wednesdays from 10:00am to 11:00 am.
To find out more contact Rafi Abbas via email – mensdenbg@gmail.com 
Or visit www.mensdenbg.co.uk
Find more local opportunities in your area
There are many ways you can improve your mental wellbeing with local opportunities in your area.
'Friendship is born at that moment when one person says to another: "What! You too? I thought I was the only one.'
– C.S. Lewis