Suicide Prevention: Baton of Hope Tour Comes to Cardiff
On Saturday the 1st of July the 'Baton of Hope' arrives in Cardiff (#BatonOfHopeUK).
Baton of Hope was initiated by Mike McCarthy and Steve Phillip who made contact following the deaths of their sons, Ross and Jordan, to suicide.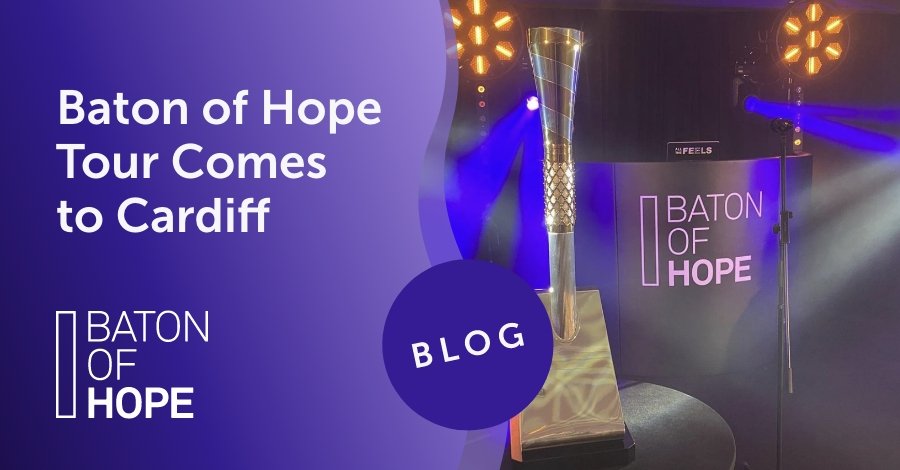 "We were brought together through tragic circumstances – two fathers sharing common grief. Each wanting to make a difference, and determined that the death of our sons should not be in vain. Through our friendship, we recognised that by creating unity of purpose we could shake things up and create a movement that we hope will stop so many people taking their own lives."
– Steve Phillip, Baton of Hope
Their initiative is part of a growing movement aspiring to a zero-suicide society, with the awareness that most suicides are preventable. Baton of Hope UK is set to be the biggest suicide awareness and prevention initiative the UK has ever seen, opening up necessary conversations and prompting actions. The goal of the initiative is to reduce the stigma, get better at asking people questions, listening, and directing people to the right help. Baton of Hope believe that 'Together we can save lives'.
Gwent resident Liz Probert to hold Baton of Hope in Cardiff
Liz Probert, from Torfaen in Gwent, will be holding the Baton of Hope in Cardiff, having lost her husband to suicide. We hear from her before she takes on the baton in memory of her husband:
"I personally have experience dealing with suicide when my husband took his own life 3 years ago.
It is not a nice place to be in dealing with the aftermath.
I spoke to everyone I could, it made me feel better.
I will be walking with the Baton of Hope held high for all those people who have taken their own lives in Torfaen and the surrounding areas. I feel proud to be taking part and will be standing alongside other people who have gone through the same experience.
My parting words are… please be kind to each other and reach out for help. There is help out there for everyone."
– Liz Probert, Representing Gwent in the Cardiff Baton of Hope
The specially designed baton will tour UK towns and cities for two weeks this Summer, to raise the profile of this issue in a way never seen before. The tour commenced in Glasgow on Sunday 25th June and ends on Thursday 6th July in London.
The Baton will be making its journey through the country before visiting Cardiff on 1st July 2023. In each area a person has been selected to carry the baton; notable personalities, leaders, and people with their own inspiring stories of hope will be carrying the baton between Sunday 25th June and Thursday 6th July. Fatboy Slim, Chris Boardman and Will Vaulks will be among those carrying the Baton in support.
The Cardiff tour will commence in Bute Park alongside the River Taff, taking a circular route through iconic locations across the city. The tour is supported by politicians and councillors, the emergency services, port and maritime authorities, and professionals working in education, mental health, suicide prevention and wellbeing. And, most importantly members of the South Wales public.
We would like to wish Liz and all those participating luck as they hold the Baton of Hope in memory of those who have died by suicide.
"There is Hope. If more people talk openly about mental health and suicide, spot the signs, ask the right questions, and listen without judgement, we can make a difference."
– Baton of Hope
Get urgent help for Suicidal feelings or experiences:
If you are having suicidal thoughts or feelings, you are not alone.
Help and support is available 24 hours a day, 365 days a year. No one needs to experience these difficult feelings on their own.
If you or someone you know has been affected by a death by suicide
There is help available on our urgent help section. If you live in ABUHB/Gwent area and have been affected by a death by suicide, free specialist support is available for you.
Follow us on social media for mental wellbeing tips, resources and courses.